The legacy of the six-day war
Why Israel needs a Palestinian state
from The Economist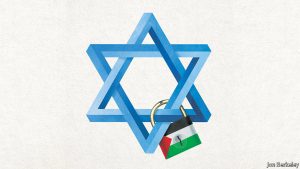 1967: Six-Day War (第三次中東戦争)
Israel (Jews) beaten Arab armies.
https://en.wikipedia.org/wiki/Origins_of_the_Six-Day_War
https://en.wikipedia.org/wiki/Six-Day_War
https://ja.wikipedia.org/wiki/中東戦争
https://ja.wikipedia.org/wiki/第三次中東戦争
Israel occupied Jerusalem where Palestinians lived.
Israel planted Jewish settlements and denied Palestinians to have their own state.
Israel's "temporary" occupation has endured for half a century.
Donald Trump visited Jerusalem on May 22nd, during his first foreign trip to secure "the ultimate deal".
Israeli prime minister: Binyamin Netanyahu
President of Palestinian (National) Authority (PA): Mahmoud Abbas
Mr Trump has urged Israel to curb settlement-building.
Israel wants him to keep his promise to move the American embassy to Jerusalem.
Mr Trump should hold off until he is ready to recognise Palestine and open a second embassy in Jerusalem to talk to it.
The outlines of peace
– Palestinians would accept the Jewish state born from the war of 1947-48
(made up of about three-quarters of the British mandate of Palestine)
– Israel would allow the creation of a Palestinian state in the remaining lands it occupied in 1967
(about one-quarter)
– Palestinian refugees would return to their new state, not Israel.
Since the Six-Day War, Israel has been willing to swap land for peace.
(Israel returned Sinai to Egypt in 1982.)
But the conquests of East Jerusalem, the West Bank and the Gaza Strip were different.
(Early Zionist leaders accepted partition grudgingly)
Zionist: Jewish people who supports the re-establishment of a Jewish homeland in the territory defined as the historic Land of Israel (Canaan, Palestine).
In 1988 the Palestine Liberation Organisation (パレスチナ解放機構) accepted a state on part of the land, but Israeli leaders resisted the idea until 2000.
(Palestine Liberation Organisation => Palestinian National Authority)
Mr Netanyahu himself spoke of a (limited) Palestinian state only in 2009.
Extremists on both sides set out to destroy the Oslo accords of 1993, the first step to a deal.
Israel
– security has improved
– the economy is booming
– Arab states are courting Israel for intelligence on terrorists and an alliance against Iran.
Palestinians
– weak and divided
– might not be able to make a deal.
Mr Abbas
– moderate
– unpopular
– lost Gaza to his Islamist rivals, Hamas. What if Hamas also takes over the West Bank?
Hamas: a Palestinian Sunni-Islamic fundamentalist organization.
Israel
– cannot hold on to all of the "Land of Israel", keep its predominantly Jewish identity and remain a proper democracy.
– should give up the occupied lands to save democracy
Israel and Mr Abbas's Palestinian Authority (PA) should co-operate to maintain security.
Israel should
– let Palestinians move more freely and remove all barriers to their goods
=> a freer market would make Israel richer, too.
– let the PA expand.
– voluntarily halt all settlements, at least beyond its security barrier.